Snowfall Below Average But Officials Optimistic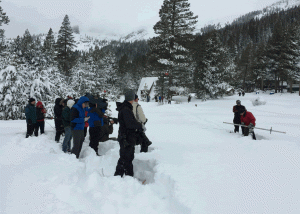 Sierra Nevada Snow Survey

View Photos
The first manual Sierra Nevada snowpack survey was held Tuesday.
Officials hiked up to Phillips Station near Lake Tahoe and found that the snowpack at the site was only 53% of the traditional average for the date. More telling, however, are the Department of Water Resources electronic sensors that show the northern Sierra Nevada is around 68% of average, the central is 65% and the southern is 73%.
Frank Gehrke, the chief of the California Cooperative Snow Surveys Program, says, "Probably the most encouraging thing is, unlike many years when we stood out here in January, it looks like we have a series of wet and cold storms stretching over the next week. That is going to really bolster the snowpack and I could see us potentially being at average after that series of storms moves through."
We are in the midst of a critical stretch, as State Climatologist Mike Anderson says about two-thirds of California's annual precipitation falls throughout December, January, February and March. On average, the Sierra snowpack provides 30% of California's water as it melts throughout the spring and early summer.