Modesto Residents Arrested On Drug Charges In Jamestown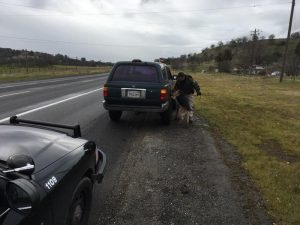 SUV Pulled Over On Highway 108

View Photos
Jamestown, CA — A Tuolumne County Sheriff's deputy pulled over an SUV yesterday morning after it swerved into his lane and forced him to pull the patrol car onto the shoulder.
It happened along a curve on Chicken Ranch Road. The deputy turned around and learned that the driver was 39-year-old Edith Ayon and the passenger was 50-year-old Marcos Lopez, both of Modesto. The vehicle was pulled over on Highway 108 near Montezuma Road.
Ayon's driver's license is suspended and she admitted to being in possession of methamphetamine, heroin and drug paraphernalia. She handed over 4.5 grams of heroin and nearly a gram of meth. Lopez was on probation for identity theft and possession of stolen property and had a felony identity theft warrant out for his arrest. Both Ayon and Lopez were taken into custody and booked into Tuolumne County Jail.   It occurred at 10:30am.