Tuolumne County Supervisors To Vote On Marijuana Ban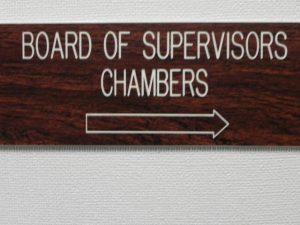 Tuolumne County Board of Supervisors Sign

View Photos
Sonora, CA — The Tuolumne County Board of Supervisors will vote whether to ban the sale of marijuana for commercial use.
The proposed move comes following the passage of Proposition 64 this past November which legalizes marijuana for recreational use in California and allows residents to grow up to six plants. Tuolumne County's proposed ordinance, up for a vote at Tuesday's meeting, calls for a ban on selling marijuana from one person to another. It was recommended for approval by the Tuolumne County Planning Commission last month by a 4-2 vote. If approved by the Supervisors the ban would remain in place while a marijuana working group, created by the board, can review the various aspects of Proposition 64 and potentially come back with a revised ordinance. Supervisors Evan Royce and Sherri Brennan will be leading the marijuana working group.
In other business on Tuesday, the Supervisors will select a chair and vice chair for 2017. Tuesday's meeting starts at 9am in the Board of Supervisors meeting room. The election of a chair and vice chair is set for noon and the marijuana discussion at 1:30pm.