Stolen Vehicle Recovered In Tuolumne: Two Sonora Residents Arrested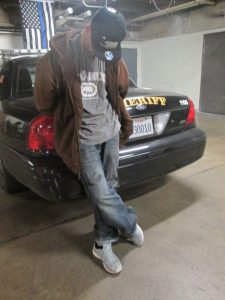 Andrew John Labriola next to patrol car

View Photos
Sonora, CA — A Tuolumne County Sheriff's Deputy pulled over a stolen vehicle because it went through a stop sign illegally.
The 2001 Nissan Frontier pickup truck was pulled over Thursday evening at 10 pm near the intersection of Willow Street and Main Street in Tuolumne. It was being driven by 26-year-old Andrew John Labriola, and the lone passenger was 31-year-old Rachael Lynn Thomas.
The deputy soon discovered that the Nissan had been reported stolen, so Labriola and Thomas were detained while an investigation was conducted. Sheriff's Office Spokesperson, Sgt. Andrea Benson says, "Labriola claimed he bought the vehicle in Modesto from an unknown Hispanic male for $1000 and the male did not have the pink slip for the vehicle. Labriola and Thomas both admitted they suspected the vehicle was stolen. Labriola admitted to painting the vehicle black and still had black paint on his hands and clothing."
The vehicle was turned over to the CHP so that it can be returned to its owner, who lives locally. Labriola and Thomas were booked into county jail for possession of a stolen vehicle.
Sgt. Benson adds that a credit card was found in Labriola's wallet, not belonging to him, so a followup investigation is being conducted to see if it was potentially stolen.