New Office Site Development Permit Considered For Columbia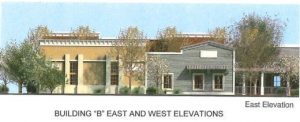 Stone Mill Center

View Photos
Sonora, CA — The Tuolumne County Planning Commission will meet on January 4th and will discuss a site development permit for construction of three commercial buildings at the intersection of Parrotts Ferry Road and Union Hill Road.
The complex is named the Stone Mill Center and is proposed by Columbia Union LLC. Building A is proposed to be just over 5,000 square feet, building B just under 3,000 square feet and building C is the largest at nearly 8,000 square feet for a total of 15,933 square feet of commercial space on a 2.1 acre site.
Tuolumne County's Community Resources Agency Director Bev Shane, who will be retiring in January says, "Previous commercial projects approved on this site have not been pursued usually because of marketing. [Developers] find that the market is not there or there is a change in the economy, we have had several recessions over the last 30 years that this has been zoned commercial. I can't say exactly why developers choose not to build their projects but it is usually market driven." She also noted on a neighboring property there was an apartment complex approved by the Board of Supervisors in 2013 but the owners decided not to pursue the project due to CEQA (California Environmental Quality Act) litigation against it. The news about that project was reported here. 
The planning commission has the ability to give final approval for this new project in January. If someone has an objection to their decision, it can be appealed to the Board of Supervisors. The Board of Supervisors would then conduct a public hearing and decide if they will approve, conditionally approve, or deny the project. If there is no appeal to the planning commission's decision the developers and they approve the project may proceed  in getting building and other construction permits to start construction.
The Tuolumne County Planning Commission meets in the Tuolumne County Board of Supervisors Chambers on January 4th at 6:00 PM