Possible Human Remains Found In Mineshaft Near Groveland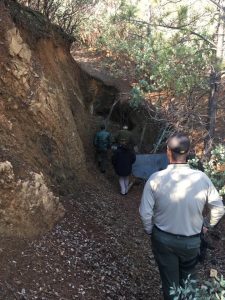 Possible Human Remains Found In Mineshaft Near Groveland

View Photos
Groveland, CA — A specialized team is working this morning to remove possible human remains discovered in a mineshaft.
The Tuolumne County Sheriff's Office received information about the discovery of possible human remains this past Saturday in a mineshaft situated on public lands near Groveland. Officials have not released the exact location at this time. Patrol units, along with the Search and Rescue Team, determined that the mineshaft was unsafe to enter. The California Office of Emergency Services was notified of the situation, and this morning a specialized team out of Southern California arrived on scene to assist in recovering the possible remains from the mineshaft.
Sheriff's Office Spokesperson Sgt. Andrea Benson says there is no information at this time regarding who the possible human remains could be, the gender, or how long the remains have been in the mineshaft. She adds that limited information is being released at this time to protect the integrity of the investigation, and so that any next of kin can be properly contacted.