Providing Christmas Cheer For Tuolumne County Family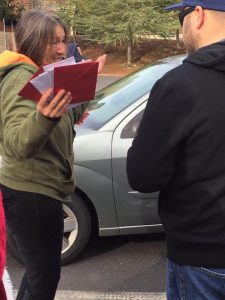 Group Surprises Elizabeth Mansfield

View Photos
Sonora, CA — Many community members, and law enforcement agencies, came together on Christmas day to help a local family in need.
The idea was spurred by Tuolumne County resident Darren Duez who had recently visited his longtime family friend Elizabeth Mansfield, who was raising her two grandchildren Ben and Hannah. Mansfield's son, a military veteran, had taken his own life, and she was doing everything she could to provide for the grandchildren.
Duez decided he wanted to do whatever he could for Mansfield, so he helped create a flyer that was dispersed to several businesses in the community, requesting donations. He received an outpouring of support including gift cards, toys and even a new car. Law enforcement and emergency response agencies got involved and helped to coordinate a surprise unveiling of the gifts, with the car hidden behind a fire truck, Sunday morning at Belleview Elementary.
As you can see from the photos, the spirit of the Christmas season, and generosity of the Mother Lode community, was on full display.