A Cracked Windshield Lands A Sonora Women In Jail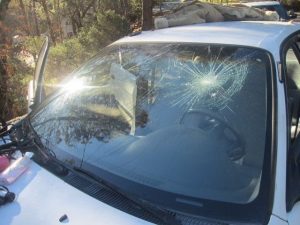 Toyota with cracked windshield

View Photos
Groveland, CA – A cracked windshield prompted a traffic stop, which led to the discovery of not only drugs in the car but in the driver's underwear.
On Thursday around 10 p.m. in Groveland along Ferretti Road, Tuolumne County Sheriff's deputies pulled over a 1995 Toyota Tercel with a large crack on the driver's side windshield. The driver, 28-year-old Courtney Steacker from Sonora, did not have a driver's license and admitted it was suspended. While questioning her, one of the deputies spotted a baggie containing marijuana and a large knife on the front passenger's seat. That prompted a search of the car resulting in a digital scale, three baggies with marijuana totaling 11.92 grams and 1.5 grams of methamphetamine in another baggie.
After her arrest Steacker admitted that she had more meth stashed in her bra. A female deputy confiscated the drugs, which weighed 3.42 grams, according to Sheriff's officials. Steacker faces charges for driving on a suspended license, possession of marijuana for sale and transportation and methamphetamine for sale.