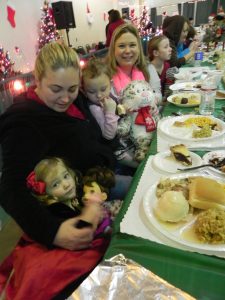 Tuolumne County's Community Christmas Eve Day Dinner

View Photos
There are a few Christmas Dinners planned for the community in the Mother Lode this weekend.
Tomorrow at the Senior Center, located by the Tuolumne Library's Sonora Branch, a Community Christmas Buffet will be served from Noon to 1pm. Reservation and cost information about the lunch sponsored by Poe Family/Titan Technology, Inc. is here.
The community is invited to Tuolumne County's Free Community Christmas Eve Saturday, Dec. 24 from Noon to 6PM at the Mother Lode Fairgrounds. Live holiday music, toys from Santa's Workshop; Santa Claus; and excellent hot meal in a warm and friendly atmosphere. No take out meals are available, details and contact information are in the event listing here.
The traditional free community dinner hosted by Murphys friends will be offered on Sunday, Dec 25th from 1pm until 3pm at the Native Sons Hall on main street in Murphys. Enjoy turkey with all of the trimmings, music, Santa and gifts for young people up to age 14. For more information read the event listing here.
Bring your cheerful spirit and celebrate with friends at a free Christmas dinner set for Sunday, December 25th from 2pm until 5pm at the Sonora Opera Hall. Details and contact information are in the event listing.