New Interim Chancellor Chosen For YCCD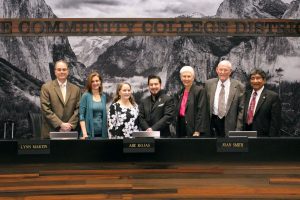 YCCD Board of Directors

View Photos
Modesto, CA – The Yosemite Community College District (YCCD) Board of Trustees has picked an Interim Chancellor to take over effective January 3, 2017.
Dr. Jane Harmon was selected by the YCCD Board.  Chair Anne DeMartini stated, "Dr. Harmon is experienced in higher education and has held a variety of executive positions that will serve our district well." Harmon began her career in Minnesota and New York and then relocated to California in 2001 where she held administrative positions at several colleges including Gavilan, Kern, and Contra Costa.
Additionally, Harmon holds a Ph.D. in Higher Education Administration from The University of Texas at Austin, Community College Leadership Program; a Master of Science Degree in Education with a concentration in reading/specific learning disabilities from Bemidji State University; and, a Bachelor of Science Degree in Elementary Education with a concentration in reading from Moorhead State University. DeMartini adds, "The Board looks forward to Dr. Harmon's leadership as the District continues its work in serving the students and communities of the YCCD,"
The search for a permanent Chancellor will begin in January. Dr. Harmon replaces retiring Chancellor Joan Smith who has held the position since 2011.