CCWD Sets Leadership For 2017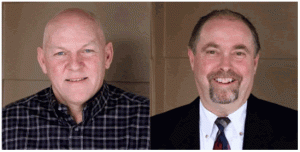 Jeff Davidson and Scott Ratterman

View Photos
San Andreas, CA — At its final meeting of the month, the Calaveras County Water District Board of Directors elected a new Chair and Vice Chair.
District Five Director Jeff Davidson will lead the board in 2017 and District One Director Scott Ratterman will be second in command. The Board also bid farewell, and awarded a special resolution, to outgoing District Four Director Dennis Mills. He is resigning from CCWD after recently being elected to the Calaveras County Board of Supervisors.
The board also recognized longtime employee Rob Beller for his 33 years of service to the district.
In other action during the final meeting of 2016, the directors voted unanimously to approve the formation of a Groundwater Sustainability Agency. The GSA formation is part of the Sustainable Groundwater Management Act which was passed by the state legislature last year.