Food Dispersed To Nearly 900 Calaveras Families In Need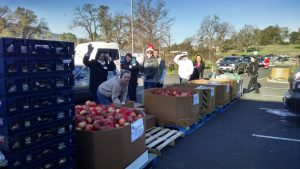 Food Dispersed At Resource Connection Food Bank

View Photos
San Andreas, CA — It is a big day for the Resource Connection Food Bank in San Andreas.
This morning is the culmination of multiple food drives, which started the first week of November, at local supermarkets and schools. Around 25 volunteers arrived at the food bank this morning, situated on George Reed Drive in San Andreas, to help give out holiday food baskets to nearly 900 Calaveras County families in need. To get a gauge of the amount of food, food bank manager Tina Mather reports there are five pallets alone just of ham.
Mather says, "We've got cars lined up (recipients) all up and down our street and spilling out onto Poole Station Road. As the cars pull up, they are loaded with the holiday meals. If they have children, they're getting a ticket to go over to Mountain Oaks School where we have our toy distribution sites set up. We're just really grateful that we have a community that responds to those that need help."
The Calaveras County Sheriff's Department Volunteer Unit conducted all of the traffic control while the vehicles passed through. Resource Connection provides food throughout the year, in addition to the large meals given out just before Christmas.