Hard Freeze Warning Issued For The Mother Lode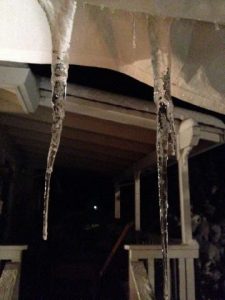 Icicles

View Photos
The National Weather Service has issued a Hard Freeze Warning for the Mother Lode and the Northern San Joaquin Valley, which is in effect for Monday from 2 AM to 9 AM.
Cold temperatures are expected once again Monday morning with temperatures dipping into the middle to upper twenties for several hours in some locations. Low temperatures below twenty-eight degrees for several hours can kill crops.
A Hard Freeze is defined as minimum temperatures at or below twenty-eight degrees for at least 3 to 5 hours. Protect vegetation and sensitive plants the next couple of mornings. Bring pets indoors.
A Hard Freeze Warning means sub-freezing temperatures are imminent or highly likely. These conditions will kill crops and other sensitive vegetation.