Blustery Weather Brings Down Trees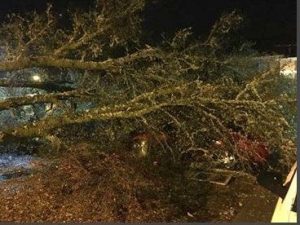 Tree down on car

View Photos
Colombia, CA — Some Columbia residents got quite a scare overnight Thursday when a tree came crashing down near two homes.
Luckily, the large tree missed both the homes in the Columbia Village Townhomes located on the 11290 block of Columbia Village Drive off Parrotts Ferry Road.  There was one casualty though as can be seen in the picture in the upper left-hand image box.  A car parked in a driveway was hit.  There is no word on what damage the vehicle sustained.  No one was hurt in the incident.  Law enforcement and a fire crew responded to the scene.
Additionally, in Sonora a large branch from one of the trees by the Sonora High School Auditorium broke off and fell to the ground.  Fortunately, it also happened during the night when no students or school staff where on campus.