Aviation History This Weekend In Groveland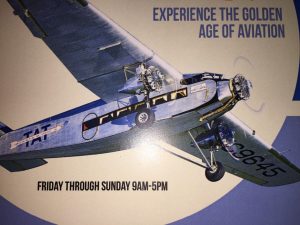 Golden Age Of Aviation

View Photos
The first passenger airplane, built in 1928, will be at the Pine Mountain Lake Airport this Friday, Saturday and Sunday.
Ed and Janet Gregory were Wednesday's KVML "Newsmaker of the Day". Ed is the President of the Northern Yosemite Chapter of the EAA (Chapter 1337).
EAA, the Experimental Aircraft Association, is an international aviation membership association founded in 1953 and headquartered in Oshkosh, Wisconsin. EAA is also a 501(c)(3) organization.
The Northern Yosemite Chapter of the EAA serves the Tuolumne County airports of Columbia and Pine Mountan Lake.
The public is invited to the Pine Mountain Lake Airport in Groveland this Friday, Saturday and Sunday from 9 AM to 5 PM to see the historic Ford Tri-Motor 5-AT-B. Rides will also be available. There are only five Ford Tri-Motors airplanes left in the world that are still capable of flying.
Liberty Aviation Museum's 1928 Ford Tri-Motor 5-AT-B, serial No. 8, flew its first flight on December 1, 1928. It was sold to Transcontinental Air Transport (TAT, the logo that graces the aircraft's fuselage today) in January 1929 where it became NC9645 and was named City of Wichita. It inaugurated westbound transcontinental commercial air service on July 7, 1929, with sister ship City of Columbus.
In April 1931, ownership of the aircraft was transferred to Transcontinental and Western Air (TWA). Here the aircraft helped in the development of TWA's route system.
Eugene Frank of Caldwell, Idaho, acquired the aircraft in 1955, where it remained in storage until July 1964, when it was purchased by Nevada's William F. Harrah of Harrah's Hotel and Casinos. Harrah began an extensive seven-year renovation, bringing the aircraft back to airworthy status and restoring the corrugated skin. The former smooth-skin Ford had its first post-restoration flight in 1971 and flew in Reno several times before being moved to static display as part of Harrah's impressive automobile collection . After Harrah's death, parts of his collection, including NC9645, were auctioned off in June 1986 to high bidder Gary Norton of Athol, Idaho.
In February 1990, the Evergreen Aviation and Space Museum in McMinnville, Oregon, acquired the aircraft. It remained in storage there until 1996 when another restoration of the aircraft started, returning it to flying condition once again.
In 2014, the aircraft was acquired by Ed Patrick and the Liberty Aviation Museum in Port Clinton, Ohio. After further maintenance to ensure the aircraft was tour-ready, Liberty entered into a lease agreement with EAA, working together to showcase the historic aircraft around the country.
EAA sponsors many aviation education programs including the EAA Young Eagles program. More than 160,000 people currently belong to EAA, with local Chapters located in all 50 states and many countries.
Members are aviation enthusiasts of every age group, including many airline and commercial pilots, engineers, business people and even astronauts. Members enjoy all types of airplanes, including "experimental" aircraft, those aircraft built by individual craftsmen, rather than in a factory.
"Experimental" refers to the category of aircraft designed by the Federal Aviation Administration (FAA) for these types of airplanes. Similar to standard category aircraft, Experimental aircraft are inspected and certified airworthy by FAA.
The EAA is dedicated to making flying more fun for everyone involved. Each chapter reaches out to people of all ages, beginning with the youth ages 8 through 17 years, whom they call Young Eagles, through adults of all ages. The EAA offers something for everyone from building aircraft to flying. Chapter activities include: BBQ/potlucks, builder clinics, safety seminars, tours, poker runs (fund raisers), and Young Eagle rallies.
For information regarding EAA Chapter 1337, call (209) 962-5061. The website for information regarding the Ford Tri-Motor is www.flytheford.org
The "Newsmaker of the Day" is heard every weekday morning at 6:45, 7:45 and 8:45 on AM 1450 and FM 102.7 KVML.