Sonora High School Board To Vote On Fiscal Recovery Plan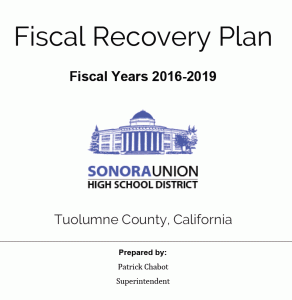 SHS Fiscal Recovery Plan

View Photos
Sonora, CA — The Sonora Union High School District Board will vote on a tentative plan to cut a spending gap by $1.7-million over the next three years.
The move is needed to reduce the district's structural deficit, as the school has been depleting its reserve funds by spending more each year than it is collecting in revenues. Certificated teaching staff cannot be reduced until the end of the year due to the existing contract agreements. Starting in 2017-18 the district plans to cut the equivalent of 5.8 full time equivalent certificated positions. Cuts to classified support positions can begin sooner, and would start during the final two months of this school year. The plan is to reduce the equivalent of 2.5 full time positions, plus additional mandatory time off for some other employees. The district also plans to reduce management expenses by $71,595. Additional revenue of $500,000 is also expected to come from a career technical education and college readiness grant. Details about which specific positions will be cut was not included in the meeting documents. Tonight's Sonora High School meeting starts at 6pm in the school's library.
You can read the plan in its entirety by clicking the link below.