Biggest Little Christmas Parade In Calaveras County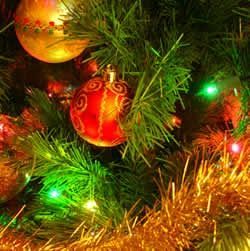 Christmas Tree Lights

View Photos
One of the smallest Christmas parades in Calaveras County will take place this Saturday. For the residents of Mountain Ranch, it is a well-supported and much needed annual tradition.
Kimberly Hesser, Parade Coordinator, was Friday's KVML "Newsmaker of the Day".
According to Hesser, after the devastation caused by the Butte Fire last year, the Christmas parade is something that the entire community can unite around.
"We need a sense of normalcy here," said Hesser. "Before last year, we have never had the kind of devastation that the Butte Fire brought to us. Everyone here, young and old, was affected by it. Some people moved. Others have started over and are rebuilding. Our community needs and loves this Christmas parade."
"We call this the biggest little Christmas Parade in Calaveras", said Hesser. "The block-and-a-half parade has been around for nearly thirty years".
Phil Alberts, a resident of Mountain Ranch for almost fifty years, has announced every single one of the Christmas parades and will do so again tomorrow.
After the parade, Santa Claus will visit with the children.
The Christmas Parade begins at noon tomorrow. In case you miss any of the entries the first time, several entries pass through again.
If you are interested in entering the Parade, call Hesser at 754-9412.
The "Newsmaker of the Day" is heard each weekday morning at 6:45, 7:45 and 8:45 on AM 1450 and FM 102.7 KVML.