Second Weekend Of December Events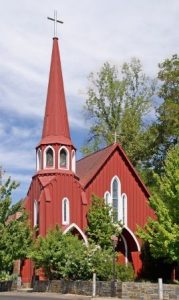 Sonora's historic landmark Red Church

View Photos
It is the Second Weekend Of December and many Christmas events are planned throughout the region.
The Tuolumne Park and Recreation District will host a two Christmas Craft Fair and there will be a Christmas Parade at 6pm tomorrow. Details are here.
As detailed in the news story this morning, each day this weekend join the Sonora Area CHP office to support the CHiPs for Kids Toy Drive benefiting Foster Kids in the Motherlode. CHP's mascot Chipper will be there to accept new, unwrapped toys, details are here. Details on the Calaveras CHP effort are here.
At the Bret Harte High School Theater reserve free tickets to a performance by the students of the Christian Family Learning Center (CFLC) of "A Rockin Royal Christmas" A Higher Calling to a Higher King. Tonight is opening night at 7PM, other dates and times are listed here.
On Friday December 9th at 7:00pm and Sunday December 11th at 1:00pm, Word of Life Fellowship invites the public to "The Joyful Sounds of Christmas: Unending Joy", a music production. Featured performances from the Word of Life Choir and Orchestra, Fresh Fire, Firebrands, and more. Location and more details are in the event listing here.
Church Basement Ladies 3: A Mighty Fortress is Our Basement continues at the Fallon House Theatre in Columbia and at the East Sonora Sierra Repertory Theatre and into December, they will present A Christmas Story. Stage 3 will host opening night for Forbidden Broadway's Greatest Hits Vol 1 on Friday Nov. 25. The entertaining tribute features the characters of Broadway's greatest musical legends.
The Polar Express continues at Railtown 1897, details are here. 
A list of all the Saturday events are in our community event calender here. Events include Swing Gitane Music and Dance at the Aronos Club, the 7th Annual Santa's Gone Hawaiian Family Stories & Songs. Join Storyteller BZ Smith & Peg Reza's Blue Shoes Ukulele Orchestra to raise money for Delta Kappa Gamma's READ TO ME program, a family literacy program for parents with young children, enjoy juice and cookies, a very fun Family-Friendly Raffle and each child will receive a small gift. Ticket information is here.
It is also the 2nd Saturday and the last After 8:00 event for the year will be held at The Red Church featuring Christmas carols by Waldorf Children's Choir and Alan Copeland, with his Jazz Trio, Now You Hazz Jazz. More details are here.
Saturday is also Mountain Christian Fellowship's Annual Holiday Boutique in Calaveras, more details are here. The Pathfinders Expeditionary Club is hosting their annual Toy Drive for the Foster Kids of Tuolumne County with details here. Saturday afternoon catch the Mountain Melody Women's Chorus as they present Holiday music at the Community Covenant Church in San Andreas.
Saturday is the last chance to get a good look at the dam that impounds the waters of New Melones Lake. For nearly two decades the gate to the dam overlook has been closed but this is the last day a Park Ranger will open the gate and be available on site to answer questions, details are here.
As reported on Monday, Santa's Workshop is located on and has closed Linoberg Street and the schedule of Santa events in Sonora is here.
Sunday in Columbia is the 34th annual Las Posadas Nativity Procession, a Spanish tradition that re-enacts the biblical story of Mary and Joseph's search for shelter on the original Christmas Eve. Since 1983 the people of Columbia have put on their own version of Las Posadas each December — with a distinctive 1850s flavor. Details are here.
Next Week: Click on a date for more events coming up

S
M
T
W
T
F
S
11
12
13
14
15
16
17