A Surprise Passenger Hitches A Ride In A Deputy's Patrol Car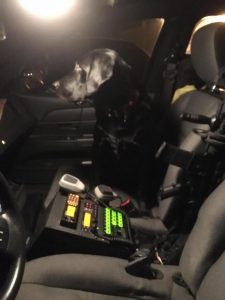 Ruger in the patrol car

View Photos
Tuolumne City, CA — A Tuolumne County Sheriff's Deputy got a shock when hopping into his patrol car in Tuolumne City.
The incident happened Wednesday around 1 a.m. in the Tuolumne Market parking lot where Deputy Jon Hammell had stopped to investigate a suspicious car in the lot and had left his driver side door open.  After the vehicle check, he headed back to his patrol car and as he went to get in, he was surprised to find he had acquired a passenger.  Ruger, a Black Lab, had hitched a ride. Laughing, Sgt. Andrea Benson states, "Deputy Hammell took a picture because he didn't really think any one would believe him. He returned to his patrol car and there was this dog staring at him."
Information on Ruger's collar allowed dispatch to locate his owners. Ruger slept the whole way home in the warm patrol car, according to Deputy Hammell. The dog was most likely bushed as he had been let out after dinner on Tuesday night and was wandering around since then. Ruger's owners had been searching the area for him into the night and were very happy to get him back.