Gonzalves Officially Named New Tuolumne County CRA Director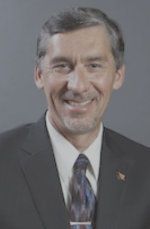 David Gonzalves

View Photos
After offering him much praise, the Tuolumne County Board of Supervisors formally approved a contract agreement with David Gonzalves to become the next Community Resources Agency Director.
Gonzalves has been a leader in Merced city and county government over the past 26 years and his family has long had a second home in the Twain Harte area.
County documents noted that 22 candidates applied, and several had very strong resumes, but Gonzalves was the clear favorite during the interview process. Candidates were ranked based on skills, experience and general fit with the community. It was noted by CAO Craig Pedro that Gonzalves received strong references from both Merced government and business leaders.
Gonzalves told the Supervisors today, "I'm honored to be here, and to serve you, and my community. We (he and family) have already started my path to be here full time. I would sneak up here as much as I could in the past, but now, I'm here to stay where my heart and soul has always been."
Board Chair Karl Rodefer stated, "You were a clear choice, so you have a lot of our confidence. That's the good news. The bad news (laughing) is that our expectations really are pretty high. We're looking forward to working with you. Congratulations and thank you for wanting to come to Tuolumne County."
CAO Pedro received a big laugh from the audience by lightheartedly pointing out that Gonzalves signed the agreement the "Tuolumne County way" on the "hood of his pickup truck in front of a park."
Gonzalves will replace outgoing CRA Director Bev Shane effective January 3rd.  His annual salary will be $152,500 plus benefits.
Several tasks will await Gonzalves. They include helping to oversee the completion of the General Plan update, the review of development projects and overseeing public works operations.