Freeze Watch Issued For Mother Lode, Central Valley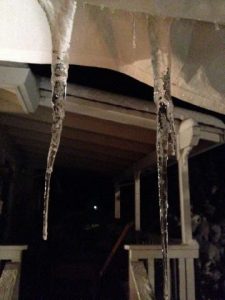 Icicles

View Photos
The National Weather Service has issued a Freeze Watch for both the Northern San Joaquin Valley and the Mother Lode below 2,000 feet, from late Tuesday night through Wednesday morning.
A Canadian airmass moving into the region will bring cold overnight temperatures over the next couple of nights. Tuesday night into Wednesday morning will likely be the coldest night, with subfreezing temperatures possible across much of the Central Valley.
According to the NWS, temperatures of twenty eight to thirty two degrees are possible late Tuesday night into Wednesday morning. Temperatures this cold may damage plants and pipes, if left unprotected.
In the Sierra Nevada, Highways 108 (Sonora Pass), 120 (Tioga Pass) and 4 (Ebbetts Pass) are all closed for the winter. Highway 88 (Carson Pass) is open year round.
A Freeze Watch means sub-freezing temperatures are possible. These conditions could kill crops and other sensitive vegetation. Take precautions to protect exposed pipes, pets, and livestock.