Update: Fire Training Exercise Underway In Sonora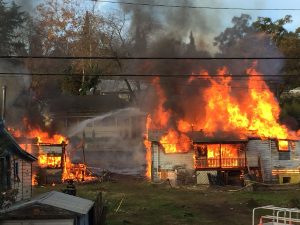 Fire Training In Sonora

View Photos
Update Sunday at 8am: Heavy fire activity is visible near downtown Sonora this Sunday morning. Heavy burning from a two day fire training drill is underway on two condemned residential structures. This drill is scheduled to conclude by late this morning.
Original story posted Saturday at 3:15pm: Sonora, CA — Several agencies are currently participating in a two-day fire training exercise in downtown Sonora.
The abandoned homes being utilized are at 549 and 559 South Washington Street and 558 Stewart Street. The Sonora Fire Department has been coordinating the exercise that also involves several other agencies. We reported earlier this week that there are some related street closures. You can view below:
*Lytton Street is closed between Washington & Stewart:
Saturday, December 3, 2016 from 8:00 a.m. – 10:00 p.m.
Sunday, December 4, 2016 from 6:00 a.m. – 10:00 a.m.
*S. Washington Street is closed from William Street to Restano Way and traffic will be diverted onto Stewart Street:
Sunday, December 4, 2016 from 6:00 a.m. – 10:00 a.m.
Fire officials also advise those with respiratory problems to stay indoors with the windows and doors closed.