Thanksgiving MEP Stats Released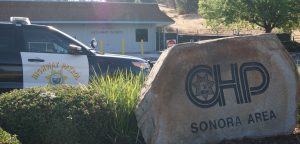 Sonora CHP Unit

View Photos
Sonora, CA — The CHP notes DUI arrests were up and sadly a fatal crash occurred on the Mother Lode highways over the Thanksgiving holiday weekend.
The CHP Sonora Unit reported during the Maximum Enforcement Period there were 10 traffic collisions, 8 DUI arrests and 60 citations handed out for speeding and other infractions.  Sgt. Shawn Snyder reports that the DUI climbed slightly from last year but noted luckily there were no fatal crashes in Tuolumne County.
That was not the case for Calaveras County where, as reported here, there was a deadly crash on Saturday, Nov. 26 just after 2 p.m. involving a Cal-Waste truck and a van. Officer Rebecca Myers reports that was one of five accidents over the four day holiday weekend. She adds officers wrote 38 various driver citations, which included 19 for speeding, 1 for passing over double yellow lines, 1 for not wearing a seat belt, and numerous others for various mechanical violations. Additionally, the stormy weather kept Resident Post Officers busy in the snow responding to numerous spin outs.  Three citations for vehicles not having chains on while in a chain control area were handed out to drivers.