More Holiday Shopping Online Locally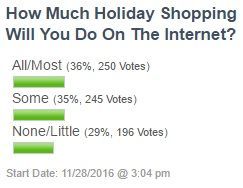 Online Holiday Poll

View Photos
An informal MyMotherLode poll asked, "How Much Holiday Shopping Will You Do On The Internet?" The answers were All/Most with 36 percent of 691 votes, followed closely by Some with 35 percent and None/Little with 29 percent.
The Monday after Thanksgiving, known as Cyber Monday, remains the biggest day of the year for online spending since 2010. Online sales the day after Thanksgiving, Black Friday, are increasing as companies offer deals both in stores and online. The Associated Press reports research firm comScore found daily spending from desktop computers rose 17 percent to $2.67 billion not counting shopping done on tablets or smartphones. Amazon.com was the busiest site, followed by sites for retailers Walmart, Kohl's and Target. Since Nov. 1, sales have risen 12 percent to $29.7 billion compared with the same period a year ago, comScore said.
According to the annual Thanksgiving weekend survey released by the National Retail Federation and Prosper Insights & Analytics, 36 percent of consumers planned to shop online Cyber Monday, up from 34 percent in 2015. More than 154 million consumers reported they will shop over Thanksgiving weekend, up from 151 million shoppers in 2015. Average spending per person over Thanksgiving weekend totaled $289.19, down slightly from $299.60 last year. With an average of $214.13 specifically going toward gifts or 74 percent of total purchases.
"It was a strong weekend for retailers, but an even better weekend for consumers, who took advantage of some really incredible deals," NRF President and CEO Matthew Shay said. "In fact, over one third of shoppers said 100% of their purchases were on sale."
Adobe Digital Insights reported to AP that Americans spent 12.1 percent more than a year ago with $3.45 billion spent on Cyber Monday. According to Adobe, the top-selling electronics by units on Monday included the Sony PlayStation 4, Microsoft Xbox, Samsung 4K TVs, the Apple iPhone and Amazon Fire. The top-selling toys included Lego sets, Nerf, Shopkins, Barbie and Pie Face Game.