Abandoned Homes Aid In Fire Lesson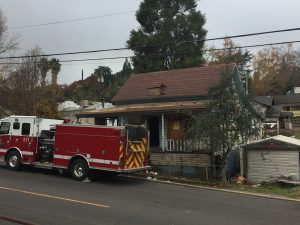 Sonora Fire Department training exercise site

View Photos
Sonora, CA — Smoke and flames may be seen in downtown Sonora this weekend and fire officials ask you don't call 911 as it is just a drill, which will impact traffic.
The abandoned homes are located at 549 and 559 S. Washington and 558 Stewart streets. They will be the scene of a multi-agency training exercise put on by the Sonora Fire Department on Saturday, December 3 and Sunday, December 4. Fire officials note that the training will include "live" fire activity on both days. Sonora Fire Chief Aimee New explains how the flames will be used, stating, "We utilize wooden pallets and straw to ignite that inside the structure. We put that out several times so we can get multiple agencies in there for the training." She adds, "If the conditions are right with Air Pollution Control on Sunday morning we'll be burning the structures down as much as possible for the property owner." Chief new notes that the homes were donate for this drill and were set to be demolished.
Motorists will face several street closures. The department provided this list:
*Lytton Street will be closed between Washington & Stewart on the following days:
Saturday, December 3, 2016 from 8:00 a.m. – 10:00 p.m.
Sunday, December 4, 2016 from 6:00 a.m. – 10:00 a.m.
*S. Washington Street will be closed from William Street to Restano Way and traffic will be diverted onto Stewart Street:
Sunday, December 4, 2016 from 6:00 a.m. – 10:00 a.m.
Fire officials also advise those with respiratory problems to stay indoors with the windows and doors closed.