Car Thief Throws Keys While Attempting To Flee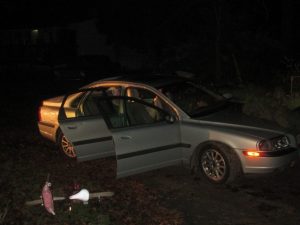 Stolen vehicle recovered

View Photos
Tuolumne, CA – A vehicle stolen in Sonora is found by Tuolumne County Sheriff's Deputies in the Tuolumne Rancheria area with the thief still sitting behind the wheel.
On Mono Way around 6 p.m. on Tuesday, a tan 2000 Volvo was stolen prompting Sonora Police to put out an alert to local law enforcement. At about 9:30 p.m., Tuolumne Rancheria Tribal Security notified Tuolumne County Sheriff's Department that officers had spotted the car on Mi Wu Street.  Once on scene, deputies discovered 35-year-old Anthony Rix sitting in the vehicle. He was ordered out of the car, but instead of following their instructions, Rix tossed the keys into nearby grass and walked across the street towards a bystander. He eventually gave himself up at the urging of the bystander, according to sheriff's officials.
A records check showed Rix had a failure to appear and probation violation warrant for his arrested related to a DUI case. As he was being taken into custody, deputies observed that Rix was slurring and reeked of alcohol. The stolen vehicle has been returned to the owner.