Water Level To Drop In Phoenix Lake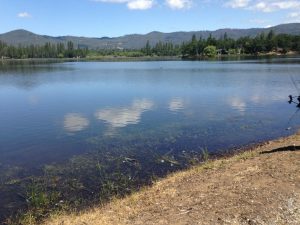 Phoenix Lake

View Photos
Sonora, CA — Do not be alarmed if you notice the water level in Phoenix Lake notably drop this week.
The Tuolumne Utilities District is currently in the design and permitting process for the Phoenix Lake Preservation and Restoration Project. Construction is slated to begin in the summer of 2018. The project will be designed to improve the lake's water quality and storage capacity. This week the lake will be lowered by approximately 10 ft. in order to observe various areas and obtain necessary data for the design process. T.U.D. reports the lower lake level will be maintained for 2-3 weeks and then restored to its usual seasonal level.
For anyone interested in the project, T.U.D. will host an informational meeting on December 6th at 5:30pm in the district's meeting room at 18885 Nugget Blvd. in Sonora.
T.U.D. has received over $5-million in grant funding for the restoration project. While Phoenix Lake was designed to have a storage capacity of around 900 acre ft., the current capacity is only about 600 acre ft. due to siltation over time. The district utilizes the lake as a primary drinking water source for the communities of Sonora, Jamestown, Scenic View and Mono Village.