New "Jaws Of Life" Equipment Coming To Tuolumne County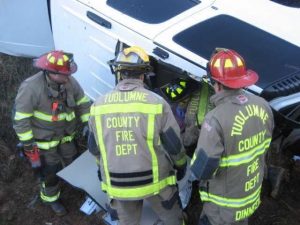 Traffic Accident In Tuolumne County

View Photos
Sonora, CA — The Tuolumne County Fire Department has received a $105,000 grant to purchase new extrication equipment.
The regional grant, available via the National Traffic Highway Safety Administration, will allow for the replacement of the "jaws of life" extrication tools. According to Assistant Fire Chief Paul Avila, the equipment will greatly enhance the ability to provide rescue services for those trapped in vehicles. It is significant because delays can negatively impact a patient's critical "golden hour" of trauma survivability. The current extrication tools are 10-15 years old.
Other agencies that participated in the grant request, who will also benefit from the equipment, include the Groveland Community Services District, Jamestown Fire Protection District, Twain Harte Fire and Rescue District, Tuolumne Fire Protection District and the City of Sonora Fire Department.
Throughout 2015 those referenced agencies participating in the grant responded to 386 traffic accidents that resulted in 58 extrications.