Angels Camp Ready To Ring In The Holidays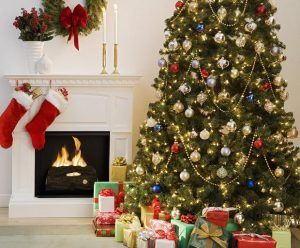 Christmas tree

View Photos
The Angels Camp Business Association presents the grand kick-off to local holiday celebrations Saturday, Nov. 26 with the fifth annual Christmas of Angels Open House from 4 to 8 p.m. and the 26th annual Parade of Lights beginning at 5 p.m. in historic downtown Angels Camp, rain or shine.
Candy Myers, ACBA President, was Thursday's KVML "Newsmaker of the Day".
The theme for this year's holiday festivities – "It's a Wonderful Life in the City of Angels" -honors the epic Christmas movie with silver bells as its decorative focus, mirroring the movie's quote – "Every time a bell rings, an angel gets their wings."
"This is one of the region's favorite events, and we're pulling out all the stops to make this the best open house and parade ever," exclaimed Myers. "Between the decorations, lights, caroling, Santa and the parade, it really gets you in the holiday spirit, plus you get to cross many items off your Christmas shopping list knowing you're supporting the local economy."
The first bells will ring at the annual Bough Making Party Nov. 21 starting at 5:30 p.m. at Wayne and Son Automotive, 329 N. Main St., Angels Camp. Refreshments will be served and bough makers are encouraged to bring gloves and wire cutter. Every year volunteers make more than 200 boughs using fresh forest greens and big red bows that are hung on poles from the north end of town to the very end of South Main Street.
During the Open House Main Street merchants will be offering a number of special discounts starting at 4 p.m., as well as festive treats, beverages and tastings of local wine. The holiday ambiance is enhanced with caroling and performances by Mountain Melody Women's Choir.
Caroling begins at 4:15 in front of the Visitor's Center and the City tree will be lighted there at 4:30 p.m. "Come early," advised Myers. "We have several food vendors that will be serving before and after the parade including Old School Pie serving their famous pizzas and Johnny's Food Truck. Our local Girl Scout Troop will be selling cups of hot chocolate to keep us all warm and cozy!"
The Parade of Lights commences at 5 p.m. at St. Patrick's Church, 820 S. Main St., showcasing a wide range of entries. Awards for parade entries will be presented in the following categories: best float, vintage vehicle, horse group, musical group, school, business, individual and other. Entry fee is $10 and forms are available online at angelscampbusiness.com or by calling the ACBA office, 736-1333. After the parade Santa will hear children's wishes on the porch of the Calaveras Visitors Center with photo opportunities.
Bob Menary has been chosen as the Grand Marshal of the Parade, who recently retired as the Christmas Parade chair and organizer for the past eight years.
Menary has volunteered his time and talents most of his adult life. He has been the Potentate of the Aslya Shriners, is Emeritus member of the Shriners Hospital for Children, past Executive Direction of the East West Shrine Game and Emeritus Chairman of the Walnut Festival Association. Menary is currently the facilitator for the Greenhorn Creek Advisor Board and sat on the Calaveras County Grand Jury for two years and was the Grand Jury Foreman for one. In addition, he was President of the Angels Camp Business Association for three years.
"We are honored to have Bob as our Grand Marshal this year," Myers added. "His tireless efforts have benefited the local community for sixteen years, and now we all have an opportunity to wave 'thank you' to him in the parade."
In addition, Camps Restaurant will hold its annual Christmas Gala with the same theme starting at 6 p.m. Monday, Dec. 5 featuring a holiday buffet dinner, live music, door prizes, dancing and live and silent auctions. Cost is $50 and tickets are available at angelcampbusiness.com, in Angels Camp at CAMPS Restaurant, Century-21 Sierra Properties, Middleton's and Turner's Wild West and in Murphys at His & Hers.
For more information, visit angelscampbusiness.com or call the ACBA office at (209) 736-1333.
The "Newsmaker of the Day" is heard every weekday morning at 6:45, 7:45 and 8:45 on AM 1450 and FM 102.7 KVML.