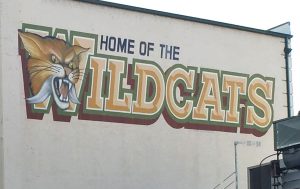 Wildcats Logo Sonora High School

View Photos
Onida, CA — Sonora's Volleyball team advanced to the NorCal Division III finals after playing a grueling 5-set Tuesday night in the Bay Area.
The Wildcats took on No. 1 Miramonte High School in the CIF Regional Semifinals. The Wildcats won three of the five nail biter sets (30-28, 24-26, 28-26, 21-25, 15-11) to walk away with the victory.
The team will play No. 2 Acalanes High School on Saturday at 7 p.m. in Lafayette, California, which is in the Bay Area. If the Wildcats beat Acalanes they will be the Northern California Regional Champs. The winner of this game will play for the state championship against the Southern California Regional Champs that will either be No. 8 Alemany or No. 11 Crossroads. That match will be played Dec. 3 at 1:30 p.m. with the location yet to be determined.