Sonora Sends Message: No Police Consolidation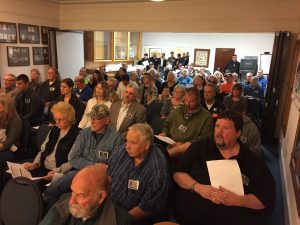 Capacity Crowd At Sonora City Hall

View Photos
Sonora, CA — To the applause of a packed house at city hall this evening, the City of Sonora made it clear there is no interest in consolidating its Police Department with the Tuolumne County Sheriff's Office.
During a public hearing at the city council meeting, nearly 25 people spoke in opposition to the idea of consolidating services, and only one spoke in favor. Concerns were that it would result in fewer officers available, loss of local control, potential loss of quality, and the difficulty of ever trying to reverse the decision down the road. Multiple speakers stated, "If it ain't broke, don't fix it."
Among the opposition were former councilmembers Hank Russell and Gary Anderson, former Police Chief Duane Ellis, former county planning commissioner Ty Wivell, community and business leaders Randy Selesia, Daryl Serina, Hal Prock, and many others.
We reported earlier that Tuolumne County Sheriff Jim Mele submitted three potential scenarios for consolidating services, which could save the city between $500,000 to $900,000 annually. A separate report completed by the city, in anticipation of tonight's meeting, stated that it would correlate in a reduction in service hours ranging from 30% to 45%. It also concluded, based on simply an hourly basis, the Sheriff's Office proposal costs more than the city's status quo.
At the end of the public comments, Councilman Mark Plummer stated that it appears there's a solution (consolidation), without a problem that needs fixing.
Councilman Jim Garaventa stated that he believes most city residents are against the idea of consolidating and that most proponents live outside the city limits.
Councilman George Segarini admitted that he came to the meeting with an openness to explore the idea further, but after the resounding opposition, stated, "I listened to my constituents, and I have changed my mind. My responsibility now is to the City of Sonora Police Department."
Councilman Matt Hawkins added, "It may save a little money, but it is independent (Sonora Police Department) for a reason."
Mayor Connie Williams closed by saying, "It seems to me it sounds pretty overwhelming what you all want, and we represent you."
With a 5-0 vote, the city directed staff members to spend no additional staff time and resources looking into the idea of consolidating the Police Department with the county Sheriff's Office.