Wide List Of Items Face Sonora City Council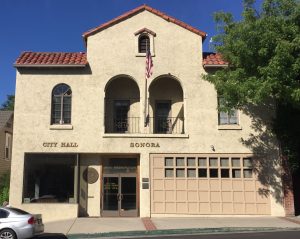 Sonora City Hall

View Photos
Sonora, CA — Several items face the Sonora City Council this evening.
We reported last week in detail that the city will discuss further whether it would like to proceed with investigating the potential benefits of consolidating the Sonora Police Department with the Tuolumne County Sheriff's Office. Click here to read an earlier detailed story.
In addition, the city will vote on awarding a contract to KD Anderson and Associates regarding a potential study to look at traffic issues associated with closing Linoberg Street between Washington and Stewart streets. The purpose would be to construct a "pedestrian paseo," as part of the Vision Sonora plan. The total cost to execute the assessment would be $5,400.
The council will also hear a Fiscal Year 2016-17 budget performance report.
Prior to the regular session meeting at 5pm, the council will also meet at 4:30pm in closed session. Items include discussion about potentially hiring a new Police Chief and negotiations regarding plans to purchase the Corner Gas property at 852 Mono Way.