Close Game Ends Sonora's Playoff Run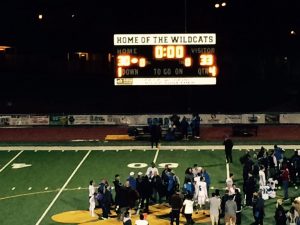 Sonora's final scoreboard

View Photos
Sonora, CA — The Wildcat's second round of the High School Football Playoff comes down to a kick at Dunlavy Field.
Sonora's season came to a heart breaking end with a 33-30 loss to Capital Christian.
The Wildcats took their opening possession and methodically marched the ball down the field capped by a Kane Rodgers 14 yard touchdown capped off by Evan Bearden's two-point conversion reception. The Cougars answered back with a 38 yard touchdown reception by Christian Simmons.  Rodgers of Sonora added another score on a slashing 54 yard run where he out raced the entire Capital Christian defense to the end zone. Riley Garrett added the point after and the first quarter ended with Sonora up 15-6.
Capital Christian would score all the points in the second quarter with D'Marcus Ross scoring from 29 yards out and Joel Cortese kicking the first field goal of the night. The Cougars were up going into halftime 15-16.
The Wildcats quarterback Josh Harris took on the scoring for Sonora in the third quarter with his first touchdown coming on a 49 yard run. Simmons of Capital Christian answered back in a 31 yard touchdown reception. Harris scored again on a slightly longer rush of 51 yards and Garrett converted the point after for the Cats and it was 30-23 Sonora after three quarters of football.
In the 4th, D'Marcus Ross of the Cougars added his second touchdown on a 6 yard run. Cortese kicked what ended up being the game winning field goal, from 24 yards out. The Wildcats had a chance when with 1 second left in the game, Rodgers was able to get out of bounds to stop the clock and give the Wildcats one last play, but on the next snap Harris's pass failed to find a Sonora target. The Wildcats season was ended just like that.
It was a season that Sonora can be proud of and gave the community some exciting Friday nights under the lights.
*Mark Ferreira contributes to this report