Developer To Appeal Don Pedro Dollar General Decision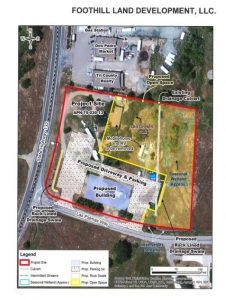 Don Pedro Dollar General Proposal

View Photos
Don Pedro, CA — It appears that the Tuolumne County Board of Supervisors will have the final say over plans to construct a Dollar General Store in the Don Pedro area.
We reported yesterday that the Tuolumne County Planning Commission denied plans for the project with a 5-1 vote, citing that it would be detrimental to the community. The commission received a petition signed by over 1,000 people opposed to the project. The Don Pedro Market has argued that it would be impossible for two similar type general stores to survive in a community of only 3,000 residents.
The proponents of the project have 10 days to submit a formal appeal to the Tuolumne County Board of Supervisors. Following the meeting, Community Resources Agency Director Bev Shane says developer Joe Dell sent an email to the county stating that his company will in fact file an appeal, and that it will be received by the county in writing within the 10 day period. Assuming it is received, Shane says she will bring the item to the Board of Supervisors at the December 6th meeting so that they can decide when they would like to schedule an appeal hearing.
The project calls for a 9,100 sq. ft. store to be constructed at the intersection of Las Palmas Way and Highway 132.