Community Leaders Recognized At Gala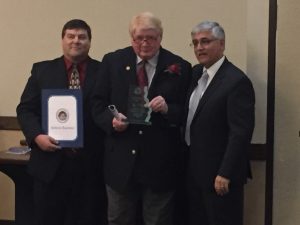 Jim O'Neil Honored As Citizen of the Year

View Photos
The Tuolumne County Chamber of Commerce hosted the 95th annual Community Awards Gala last night at the Black Oak Casino Resort.
Jim O'Neil of Jamestown was given the prestigious Citizen of the Year award. Over the years O'Neil has been involved in several organizations, committees and commissions. He led an effort to help the Jamestown Family Resource Center when it was struggling and in need of support. He has also served as the chairman of the Jamestown Walk of Fame project, and is currently chair of the Jamestown Mural Project. It was noted that O'Neil is a person that truly cares about his community and is an inspirational community treasure. You can view video of O'Neil's speech by clicking the video box in the upper left hand corner.
The Excellence in Government Award was given to Tuolumne County Treasurer and Tax Collector Shelley Piech. She has helped lead the way for Tuolumne County to be one of the first two counties in the state to settle issues with Airbnb users needing to pay Transient Occupancy Tax.
The Entrepreneur of the Year is Gina Prock of Micro-tronics. The electronics manufacturing company employs over 20 people. Together, with husband Hal Prock, she also owns Auto Tech and Tires. She sits on the Civic Advisory Board for Sonora Regional Medical Center, is an Ambassador on the Special "Events Committee of the Tuolumne County Chamber of Commerce and is the Youth Director for Black Oak Lanes Youth Bowling League.
The Small Business of the Year is Boone's Memorial. The family owned company started in Missouri in 1881 and was moved by Jerry and Gordon Boone to Columbia in 1959. In addition to offering tombstones, it offers commemorative plagues, vases and historical markers.
The Administrative Professional of the Year is Jennifer Brown, the Executive Administrative Assistant to Ron Patel, CEO of Black Oak Casino Resort. It was noted she can problem solve, plan and excel in stressful situations.
The Non-Profit Organization of the Year is Sonora Jr. Youth Football and Cheer. The goal of the organization is not only to carry on a winning tradition of Tuolumne County football but also to instill positive influences on its members.
The Teacher of the Year is Michelle Bennett of Jamestown Elementary. She facilitates community service for her students and can be seen at almost every event volunteering time. Bennett teaches 7th and 8th grade Language Arts and Social Studies. She is also the Student Activities Director and teaches a leadership class.
The Students of the Year are Carley Copello of Sonora High, Moriah Loomis of Summerville High and Randie Scott of Tioga High. They were recognized as being leaders of the class.