Sonora Wildcat Volleyball Advances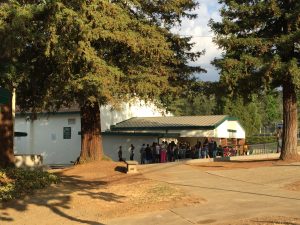 Bud Castle Gym, Sonora HS

View Photos
Sonora, CA– Sonora's Volleyball team played St. Patrick-St. Vincent from
Vallejo last night. They won the first three matches of the five match set to move on from Round II of the 2016 CIF State Girls Volleyball Championships. The Wildcat's girls volleyball team now goes on to play River Valley from Yuba City on their home court this Saturday, November 19 at 7:00PM. The varsity Head Coach is Amy Wahlbrink. Members of the Sonora Golden Regiment Band played at last night's game and will also be at the home game on Saturday.
If the Wildcat's win against Yuba City they will play either Miramonte or El Camino on Tuesday, November 22 in the Regional Semifinals.
In 2014, under coach Kim Evans, the girl's volleyball team won the State Championship and all Sonora fall sports teams made playoffs.