Man Strikes It Rich At Black Oak Casino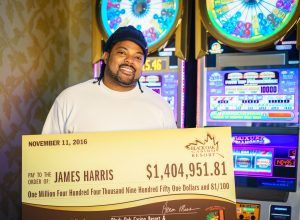 James Harris From Modesto wins $1.4 million at the Black Oak Casino Resort

View Photos
Tuolumne, CA — A Modesto man definitely passed go and collected over $1.4 million at a Monopoly slot machine in the Black Oak Casino Resort.
Last Friday while playing the dollar Monopoly Luxury Diamond slot machine, James Harris hit the jackpot winning $1,404,951.81. Harris had this reaction, cheerfully stating, "It's going to help a lot of people, not just family, but friends, and myself…I'm thankful to God for this."
A picture preserved Harris' winning spin, which can be seen in the upper left-hand image box. "This is a truly seminal moment for our property, and we are honored to share in Mr. Harris' joy," said Aaron Moss, general manager of Black Oak Casino Resort. "A win this big is truly life altering and the excitement on the gaming floor is contagious."
Harris has gambled at the casino before but has only been a member of its players club since July.