New Tuolumne County Chamber Of Commerce Executive Director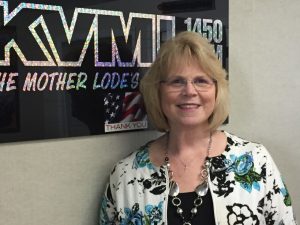 Amelia Harrison

View Photos
The Tuolumne County Chamber of Commerce has a new Executive Director. She is Amelia Harrison.
Harrison was Wednesday's KVML "Newsmaker of the Day".
Mike Ayala, the retiring Executive Director, has moved into a part-time role to assist Harrison and is also be the Chamber's representative for governmental affairs. Ayala led the group for three years after retiring from a career with the CHP, serving as the Lt. Commander of the Sonora Area Unit. Ayala had replaced longtime leader George Segarini, who now serves as a member of the Sonora City Council.
Harrison has been a member for thirteen years and has served as an Ambassador, Ambassador Chair and Board President.
"I was interested in this job because I believe that Tuolumne County is a great community and that our businesses matter," Harrison said. "I really want to make a difference and continue to have the Chamber and the local businesses work together."
Tomorrow night (Thursday), the 95th Annual Community Awards Gala will take place at the Hotel at Black Oak Casino Resort.
This popular Chamber event recognizes outstanding individuals, students and businesses that have contributed their time and effort to enhance our community. During this event the Chamber recognizes members of the community that have gone above and beyond throughout the year. Awards are given to a Citizen, Business, Non-Profit, Small Business, Administrative Professional, Government Official, Teacher and to Students. The winners are nominated by members of the community. This event allows the Chamber of Commerce to say "thank you" to the community.
All sponsors are encouraged to make the award presentation to the winner of the category for which they have sponsored.
There are still some tickets available to attend the Gala. The public and non-members are invited to attend.
The social hour begins at 5:30 with dinner served at 6:30 PM.
For tickets and more information, log on to http://tcchamber.com or call 532-4212.
The "Newsmaker of the Day" is heard every weekday morning at 6:45, 7:45 and 8:45 on AM 1450 and FM 102.7 KVML.