Tuolumne County Hires Mills To Consult On Water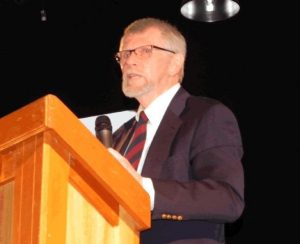 John Mills speaks at water forum in Sonora

View Photos
Sonora, CA — The Tuolumne County Board of Supervisors has hired John Mills to be an official water consultant for the county.
Mills, a Tuolumne County resident, is a respected figure in the water field, and also provides similar services to other entities in the region. We reported back in 2014 that Mills was the keynote speaker at a Focus On Water forum put on by the Columbia College Foundation. Mills was introduced at the event as a member of the Association of California Water Agencies and an appointee to the Governor's Emergency Drought Relief Task force.
District Three Supervisor Evan Royce noted this morning, "I think John is the perfect person for this job and I'm excited to see us moving forward with him. I'm really excited about the prospects for our future in Tuolumne County related to water. I think this board, the TUD Board, and the general political climate, poses a really good opportunity for us to secure potential water storage or rights."
On hand for today's meeting, Mills indicated that water is a major discussion topic right now at the state capitol in Sacramento. He said, "Typically things in water move glacially, but not right now. Thankfully the Chairman (Karl Rodefer) has flown an F-16, so he'll know what it feels like."
Mills explained, "In my 30 plus years of experience in water, I've never seen the number of activities taking place in a constrained timeframe. The Department of Water Resources and the State Water Resources Control Board are about to release a framework document, for the Governor, and it will basically restructure water regulations in the state of California down to individual water budgets for homeowners. We'll have 10 days to review that and get comments back. Then it goes to the Governor."
District Two Supervisor Randy Hanvelt added, "Actually, I think we are little late in moving to this point. We are new to the water game, and late to the water game, I might add. Your knowledge and experience will be a great asset to us, so I fully support this."
The vote was 5-0 in favor. Mills will work on a specific list of tasks and provide regular updates to the county. The contract runs through June of 2017 and is not to exceed $59,802.