Mother Lode Election Recap 2016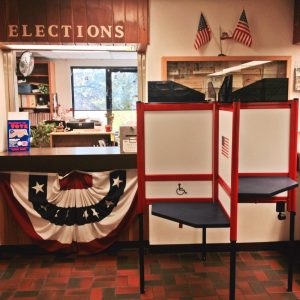 Tuolomne County Election Office

View Photos
Sonora, CA — On Election Day 2016, Tuolumne and Calaveras counties supported Donald Trump by a wide margin. The next president-elect received 55% of the vote in Tuolumne County and Democrat Hillary Clinton received 36%. In Calaveras County, Trump received 56% of the vote compared to Clinton's 34%.
The State of California, as a whole, was overwhelming for Clinton with 61% compared to Trump's 33%. At the local level, it appears there will be a new look to the Tuolumne Utilities District Board of Directors. With three open seats, Barbara Balen received 23%, followed by Bob Rucker with 20% and Ron Kopf with 19%. While there are still vote-by-mail and provisional ballots to be counted over the next week, Kopf has a sizeable lead over 4th place Kent Johnson (14%) by about 2,000 votes.
Measure K also received a majority of the vote in Tuolumne County, related to affordable housing, with 52% in favor and 47% opposed.
In Calaveras County, former Supervisor Gary Tofanelli received 54% of the vote in the District One Supervisors race and Cliff Edson was in second with 44%. 61% of voters said District Five Supervisor Steve Kearney should be recalled, and the person voters decided to replace him with is Clyde Clapp with 34%.  Measure D failed to gain support, related to medical marijuana cultivation regulations, with 45% in favor and 54% opposed.
In the US District Five Congressional race, Congressman Tom McClintock will return to office with 62% of the vote and Democratic challenger Robert Derlet received 37%.
Assemblyman Frank Bigelow also easily won re-election by receiving 64% of the vote and Democratic challenger Robert Carabas with 35%.
Democrat Kamala Harris (62%) defeated fellow Democrat Loretta Sanchez (37%) in the race for US Senate.
12 of the 17 California ballot measures received a majority vote. They include high profile measures like Proposition 56 (increasing the cigarette tax), Proposition 57 (criminal sentences) and Proposition 64 (marijuana legalization).
You can find more results, including school and special district races, in the Election Section of myMotherLode.com.