Federal Funding To Fight Tree Mortality On Private Forestland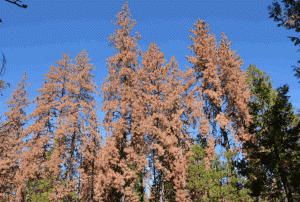 Tree Mortality In Sierra Nevada

View Photos
The USDA is putting up federal funding for private landowners hit hard by the tree mortality epidemic.
Property owners 16 Sierra Nevada counties eligible for the program, including Tuolumne, Calaveras, Amador and Mariposa. Non-industrial landowners, with properties at least an acre in size, can apply. The USDA Natural Resources Conservation Service (NRCS) has initially put up $4-million in funding, and it is available on a competitive process. Applicants with over 20-percent of their conifer forestland property covered with dead trees will receive priority funding consideration. Also, the funding cannot be used to remove trees within 100 ft. of the property owner's home, as the tree mortality task forces in the local counties are overseeing removal of those hazard trees.
Landowners will need to develop a Forest Management Plan for the property. USDA spokesperson Chris Zimny points out, "Fundamentally, NRCS works in coordination with the landowner to produce a plan. It gives the landowner an assessment of what the forest is like and perhaps the natural resource issues on the property. It helps understand what the opportunities are and comes up with a game plan to provide conservation practices for the removal of dead trees."
Interested applicants should contact the local NRCS service center asap, and all applications will be processed, with a visit  to the applicant property, by December 9. Interested landowners in Tuolumne, Calaveras or Amador counties can call 209-223-6535 and those in Mariposa County can call 209-966-3431.