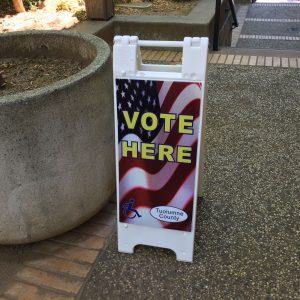 Tuolumne County Elections Office

View Photos
Sonora, CA — Besides selecting a new President, there are several highly contested local races on the ballot today in the Mother Lode.
High interest races include TUD, Calaveras County Board of Supervisors, school boards and Measures K and D.  The polls open at 7am. If you still have a vote by mail ballot in your possession, it's not to late to send it, as Tuolumne County Clerk and Auditor and Controller Debi Bautista points out, "For the last two elections, postmarks do count. So as long as the ballot is postmarked by November 8 (Election Day), and received by Monday the 14th, the ballot will be counted."
In California, there are several state ballot measures, ranging from marijuana legalization to extending temporary tax increases. California will also pick a replacement for the retiring Barbara Boxer, either Democrat Loretta Sanchez or Democrat Kamala Harris. The local District 4 US Congress race is between incumbent Republican Tom McClintock and Democratic challenger Robert Derlet. In the race for District Five Assembly, it is Republican Incumbent Frank Bigelow and Democratic challenger Robert Carabas.
Click here for a list of local races. The results will be updated as new information comes into the news center throughout the evening.
And a reminder that AM 1450 and FM 102.7 KVML will have special live national coverage starting at three o'clock and local results will air twice an hour, after eight o'clock, when the polls close, on KVML, Star 92.7 and 93.5 KKBN.