Pair Arrested In Homeless Camp On Meth Charges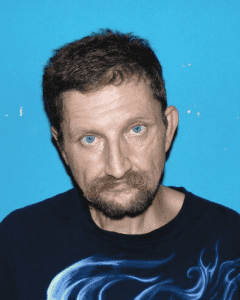 Horace Goins

View Photos
Jamestown, CA — The Tuolumne County Sheriff's Office arrested two people from Coalinga after spotting their suspicious vehicle in Jamestown.
On Sunday afternoon a black Lincoln four-door passenger car, with no license plates, was in the parking lot of the Sierra Energy Fuel Station in Jamestown. A Cpl. with the Sheriff's Office ran a records check on the vehicle's VIN number and discovered it was last registered in early 2015.
The owners, 51-year-old Horace Goins and 45-year-old Kristie Parker, both from Coalinga, were located nearby at a homeless camp near the bridge. They were visiting the camp and drinking alcohol with several other people. Goins is on probation out of Fresno County for drug possession, and admitted to possessing methamphetamine. During a search, 9.19 grams of meth was located in his pocket. Parker, however, claimed the drugs belonged to her. During the investigation, Goins and Parker were determined to both be the owners of the meth…with the intent to sell it.
A third person at the camp, 34-year-old Priscilla Wood of La Grange, was also arrested for a misdemeanor warrant. All three individuals were transported to Tuolumne County Jail.
Goins and Parker were charged with possession of a controlled substance for sale, possession of unlawful paraphernalia and expired registration.