Update: Evacuation Lifted For Groveland Propane Tank Leak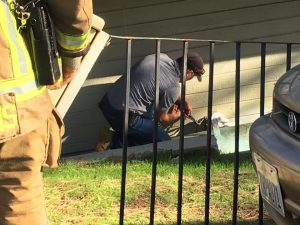 Propane tank accident in Groveland

View Photos
Update at 5:45 p.m.: Emergency crews have fixed a gas leak that was the result of a freak accident and forced nearby residents from there homes. Tuolumne County Sheriff's officials report residents have been cleared to return to their homes. Additionally, Nonpareil Way has reopened to traffic. (Details surrounding the freak accident are below.)
Original post at 5:3o p.m.: Groveland, CA — Emergency crews are on the scene of a gas leak that resulted after a freak accident sent a tank rolling into a neighbor's home.
Tuolumne County Sheriff's Officials report fire personnel are in the 20000 block of Nonpareil Way in Groveland and have evacuated nearby residence due to the propane tank leak. The mishap took place just after 2:30 p.m. Friday when a motorist was backing a vehicle into a driveway and hit a propane tank. The tank was knocked off its pad, rolled down a hill and landed against the neighbor's home.
Currently, crews are waiting for a truck to move the propane tank. The CHP is on scene and has closed the Nonpareil Way at Point View, while deputies are directing traffic at McKinley Way.
Environmental Health and Fish and Wildlife have been notified of the leak.