Two Mountain Passes Reopen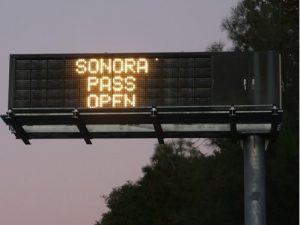 Sonora Pass Sign

View Photos
Travel has resumed on two of the Mountain Passes after It took Caltrans crews nearly a week to clean up the roadways after stormy weather hit the Mother Lode last weekend
Highway 4 Ebbetts Pass was the last to close on Halloween just 1.3 miles west of the east end of Lake Alpine, Highway 108 Sonora Pass was closed at Kennedy Meadows Saturday evening. Both reopened today.
Highway 120 Tioga Pass remains closed. Yosemite National Park spokesperson Jamie Richards explains, "There is still ice and other hazards on the road that create hazardous driving conditions for motorists. At this point and time, there is no clear indication when we will reopen the road."
Tioga Pass is  closed at Crane Flat.