Man Leads Police On High Speed Chase In Angels Camp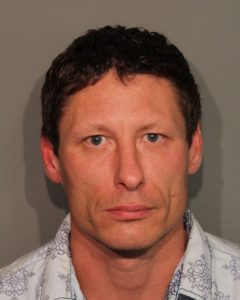 Christopher Benters

View Photos
Angels Camp, CA — An Angels Camp man led officers on a chase that reached speeds up to 100 mph, according to the Police Department.
An Angels Camp Police Officer attempted to pull over 39-year-old Christopher Benters in a 1995 Jeep Cherokee at 3:35pm on Wednesday. Instead of stopping, he allegedly sped off along Murphys Grade Road. Benters later attempted to turn into a driveway in the 3000 block of Murphys Grade Road, but missed the driveway, and collided with some bushes and a large tree. The Jeep came to an abrupt stop upon impact, and Benters was taken into custody without incident. Paramedics responded to check Benters and he was later transported to Mark Twain Medical Center. He was then cleared by medical staff and taken to Calaveras County Jail.
The Police Department reports that a pound of marijuana was located inside the vehicle, as well as evidence related to the sale of marijuana.
Benters faces charges related to evading an officer, transportation and possession of marijuana for sale, and for driving on a suspended license.