Curious Deputy Nets Pot Bust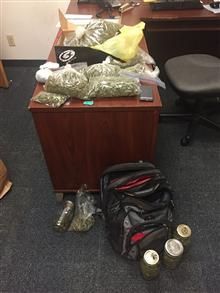 Marijuana found in search of vehicle

View Photos
Jamestown, CA – A drug bust came after a deputy's chance check of a registration tag resulted in the arrest of a Jamestown man.
While driving eastbound on Highway 108 Tuesday night in Jamestown, a Tuolumne County Sheriff's Deputy decided to check the sticker on a red 2000 Buick sedan in front of him. Records from the DMV showed that the vehicle's registration expired in May.  Oddly, though, the sticker on the license plate was for 2017 prompting deputy to pull the Buick over near Hurst Ranch.
Sheriff's officials report Lonnie Joshua Malone, 34, was behind the wheel and was the registered owner of the car. A records check of Malone noted he was on a searchable probation due to a prior marijuana cultivation conviction.  During a search of the Buick the deputy found seventeen packages containing various amounts of marijuana.
Malone was booked into the Tuolumne County Jail for possession of marijuana for sale and displaying a false vehicle registration sticker.