Possible Tap Troubles In Calaveras County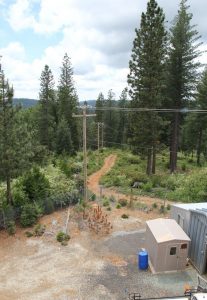 CCWD Sawmill Tank

View Photos
Arnold, CA – Calaveras County Water District (CCWD) wants to alert customers to a planned overnight water shutdown next week that could affect their taps.
The planned water outage is scheduled from 9 p.m. to 7 a.m. Wednesday, November 9 through Thursday, November 10 to minimize customer impact. While customers living on the lower portions of the system may experience no impacts, those living on the hills above Arnold, like the upper portions of Meadow Mont Subdivision, may experience little to no water pressure or water disruptions, according to district officials.
This shutdown is part of the District's $5.3 million Reach 3A Project. CCWD spokesperson Joel Metzger reports, "During the shutdown, T&S Construction crews will be removing an isolation plate near the Moose Lodge and then connecting a section of new 12-inch ductile iron pipeline to the 3 million gallon Sawmill tank, which sits on the hill above White Pines and serves as the primary water supply for Arnold. This will require the Sawmill Tank to be shut off, leaving most of the town with a limited water supply until the project is complete." Metzger adds that the Blue Lake Springs Mutual Water Co. will assist during the shutdown by using their water supply tanks to maintain water pressure in CCWD's system.
One unintended consequence of the shutdown, according to Metzger, is that if you have a fire alarm the low water pressure may cause it to go off. He suggests customers notify their alarm companies.
Of note, this work is scheduled weather permitting.