Mother Lode Area Eyed By U.S. Marshal Manhunt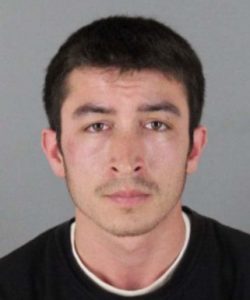 Ricardo Colindres

View Photos
Sonora, CA — A man on the U.S. Marshals' Most Wanted list for shooting his pregnant ex-girlfriend could be in the Mother Lode and is considered armed and dangerous.
Ricardo Colindres, 26, from the bay area is wanted on two counts of attempted murder and attempted kidnapping in connection with the shooting of his former girlfriend in April. Investigators report she was pregnant at the time, when Colindres shot her point blank in the face at her Pacifica apartment in San Mateo County and has been on the run ever since.
The U.S. Marshals in the Northern District of California alerted Tuolumne County Sheriff's officials today asking that the public be notified as Colindres has ties to the area. Deputy U.S. Marshall Joe Palmer points out, "We don't have anything solid that he's there…We know that his family has property in Calaveras County in the Burson area. He also has known associates and has been known to frequent Tuolumne County in the Groveland area. He might have fled there because it is more rural."  Palmer indicates Colindres is an avid dirt bike rider and his brother is a professional rider noting that both have ridden on the trails in the Burson area.  Palmer cautions, "We want to get the word out that he's dangerous and that the firearm that he used in the incident is still outstanding."
Additionally, the Marshals office and the Pacifica Police Department have increased a $2,500 reward to $10,000 for any information leading to the arrest of Colindres. Palmer remarks that investigators believe someone has to be helping him or he would have been caught by now. Palmer warns, "If anyone has been helping him. It would behoove them to come forward now instead of waiting for us to find him because we will be able to piece together who was helping him, giving him supplies and money. Those people will be charged to the fullest extent of the law."
Palmer notes that the mother and baby, which is not Colindres', both survived the attack. He provides this description of Colindres:
Hispanic
5'5" inches, 125 pounds
Brown eyes and hair
Anyone with information is asked to call the U.S. Marshals at 1-800-336-0102, or email usms.wanted@usdoj.gov. Click here to view the Northern California Most Wanted website.