Near Record Setting Precipitation In California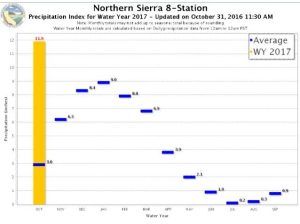 DWR - Northern Sierra Precipitation

View Photos
Sonora, CA — If it seems like there has been more rain this October than normal…you are right.
In the Northern Sierra Nevada, where the California Department of Water Resources has eight weather recording stations, 11.9 inches of rain has fallen this month, on collective average. A typical October for the northern region sees around three inches. Doug Carson, spokesperson for the DWR, says it marks the second wettest October since records started being kept in 1921. Only 1963 saw more precipitation. The total precipitation for the northern region is 398% of average for the date.
The central Sierra Nevada, which includes the Mother Lode, is not far behind with 316% of average precipitation in October, with 6.3 inches. The Southern Sierra Nevada recorded 137% of average precipitation with a collective average of 1.6 inches.
Carlson adds, "It's been a remarkable month of October, but unfortunately we can't project forward to say that the drought will be significantly impacted and reduced, we'll just have to wait and see how the remainder of the water year plays out."
Even more precipitation is anticipated across the Sierra Nevada late this evening and into Tuesday as the calendar turns from October to November.